You may have considered starting an online community to strengthen customer relationships and drive business value. You may also have noticed that most new communities fail and are therefore hesitant to even try. Most communities never reach a critical mass of active members despite ambitious investments from large brands with large customer bases. In this first article about communities, we share insights on how to avoid common pitfalls, so your community will be an actual meeting place and not a deserted no man's land.
The life cycle of communities
There are five steps in the community life cycle. Each step has different goals and requires different tactics. One key challenge throughout the life cycle is to attract enough active members.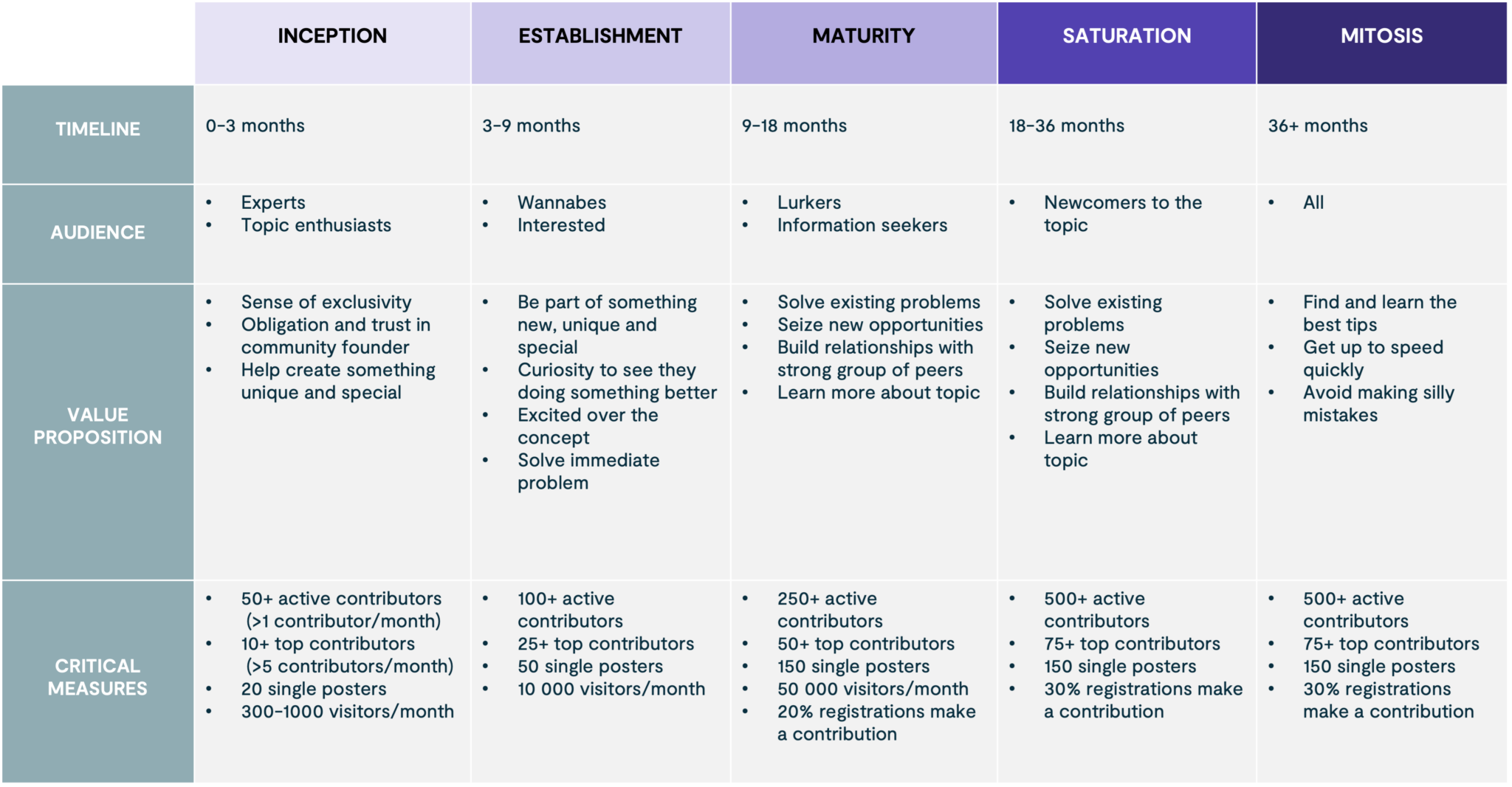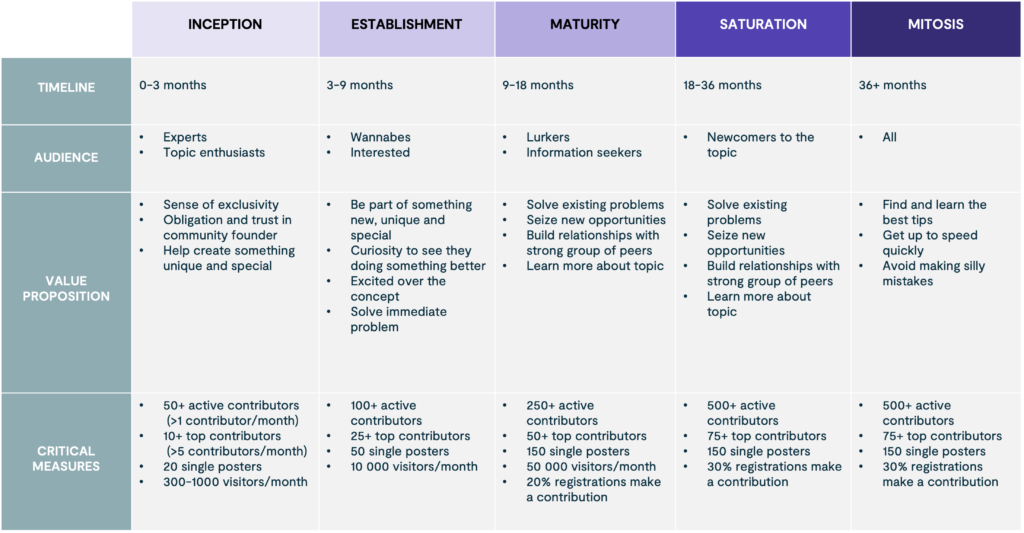 In most cases, communities fail as they fail to attract enough members who contribute and create content. Communities need active members who for example start new topics, respond to other members, do reviews, and otherwise actively engage with other members. Most members will always be lurkers and information seekers. They are happy to consume the content other members have created but will not produce anything themselves. As most of the content is user generated, a strategy is needed from day one on how to attract and engage active users. Each step in the life cycle requires specific methods for recruiting and developing active members.
How to think in each phase of the life cycle?
1. Inception
When the community is started, a smaller group of core members needs to be recruited. These are people that have a genuine interest in the topic that the community revolves around. These are often experts, professionals, semi-professionals in the field or people who have a specific subject as a special interest.
A good way to start the community is to recruit members through "by invitation only". Which creates a group of members that feel both personally selected and involved in creating something new and exciting. The number of members may be increased gradually by allowing active members to invite a limited number of new members. These new recruits get personal invitations and might be people in the company's network or people with an interest in the subject. Consider whether some of these need to be paid.
You don't need a wide range of functions in the Inception phase, in fact, too many features can make visitors feel like they are entering a large house without furniture. Our recommendation is to initially start with a simple discussion forum. If relevant for your community, a rate & review function can be considered to be included in the first phase.
An active moderator is needed from the start. The role doesn't just mean dealing with members who misbehave. It is even more important that the moderator actively creates new topics, create discussions, asks questions, etc. In the first phase the moderator creates personal relationships with members, e.g., with a personal welcome email and through personal dialogues.
The moderator needs to be someone with excellent interpersonal and communications skills with a great commitment to the community and its topic. The most active members are involved in the development of the forum.
Expect the Inception phase to take at least three months. This is the most important face to build a base of active members.
2. Establishment
In the second phase, the forum is opened up to a wider audience and engages with more members. Actively invite customers and other relevant audiences, but still with and VIP-approach.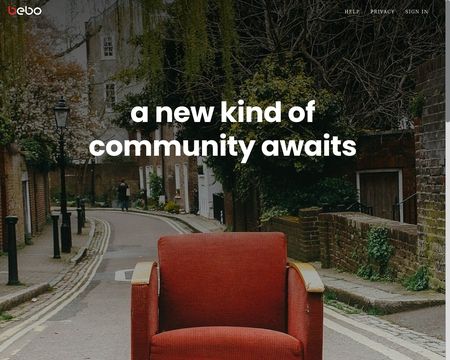 Invite the best- or the most active customers in your customer base. Selected recipients of the invitation should feel selected as "VIP-members". Perhaps a handwritten email with a personal greeting can be used instead of a traditional marketing email.

Think about whether there are any semi-professional content creators who can be engaged in the community. E.g., a blogger or a person on social media that has an active group or following within the area or subject. These persons can then create their own "corners" in the forum which they will run and develop.
The moderator has an important role in the establishment phase creating dialogues and engagement. This includes starting new topics, initiating surveys on different topics and frequently interacting with the most active members. These members can be given status as super users, who get extended capabilities, e.g., in moderating. Consider starting a reference group of super users who are invited to contribute on how the forum should be improved and developed.
At this point you can also start engaging your employees in the organization. Instruct all, or a select group, to use a certain portion of their working hours to engage in the forum as regular members. Perhaps you have employees who have a deeper knowledge in the field and therefore can be engaged?
The establishment phase usually lasts from month three through nine but may take longer.
3. Maturity
In the maturity phase the focus is to capitalize on the core of active members that have been built up, so the focus is now switching to recruitment of many new members.
If you have a large email base or a lot of visitors to your site, you should use these channels to drive traffic to the forum. In this phase more focus should be placed on professional content. The goal of this content is to drive larger volumes of traffic from organic searches. Use SEO methodologies to identify topics and keywords that appear in Google searches and results. If the forum has a broad potential target group, it might be good to create a broader awareness of the forum through purchased media, e.g., broad awareness campaigns on Facebook.
At this point the large number of members to invite and engage with means that communication needs to be automated. Some of the cornerstones that need to be put in place are recruitment, onboarding- and activation programs. Personalization in the form of e.g., recommended topics are needed to drive engagement. At the same time the work continues to recruit and nurture members who actively contribute to the forum. Establish specific VIP-member dialogues for the most committed and engaged members.
4. Saturation
In the saturation phase a larger share of new members are less familiar with the field and subject. These members require a different type of onboarding and automated communication. This includes guides for new users on how to use the forum and find what's relevant for them. At this point several new features will have been released and you need to help new users with how to use them.
5. Mitosis
Mitosis means cell division. At this stage the forum has become so large that there is room for subgroups in the forum. Members can create sub-forums within the community for different sub-areas and specific interests. Give members the capability to operate these sub-forums as moderators. Now the role and responsibility of creating active and committed members is transferred to these new moderators. Create meeting places for moderators where they can discuss how they can evolve, as well as giving them the opportunity to participate in the development of the forum.
Summary
Creating active members who contribute content to the forum requires a plan and systematic work from day one and forward. This is much more important than comprehensive and innovative features. Committed members are the very foundation of the forum and this is where your focus should be.
More to come around communities
This is our first article in the series regarding online communities. The following articles will be about:
Article 2: What kind of online community suits your business and how do you build a strong business case?
Article 3: What community features are there and how do you build a roadmap?
Article 4: IT platforms for communities.
Bonus
Different types of members in a community and their motivation, commitment and communication: